Job Searching Notes Summary
最近在整理自己的行李,发现自己的三本找工作的 notebook,里面按照时间顺序记录了找工作的过程。真是,"晴川历历汉阳树, 芳草萋萋鹦鹉洲",这里整理下里面感觉对大家有用的总结。为了节省时间,我大多直接拍照列在正文里面,you can pick up any item in any order.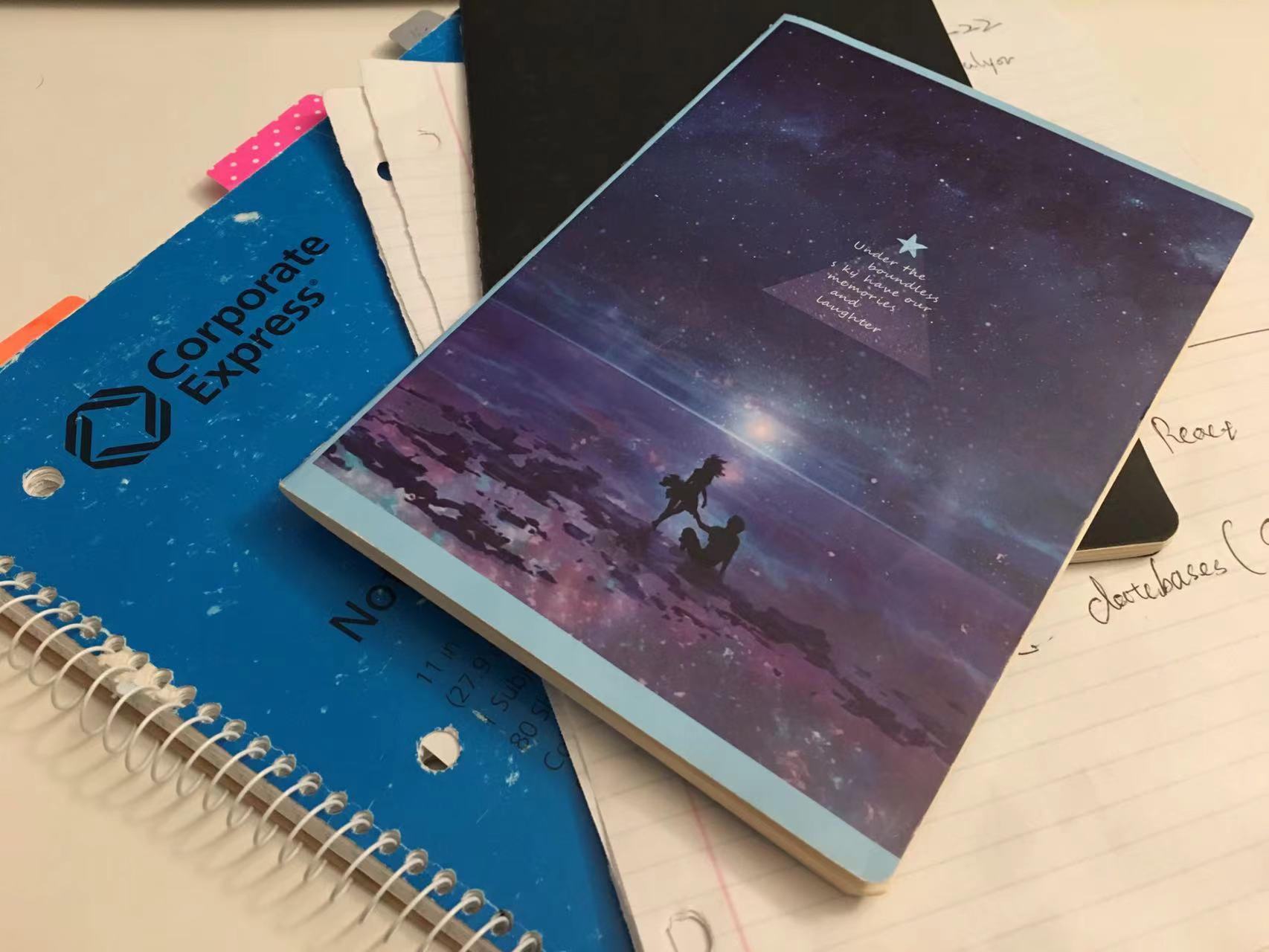 经验 1
Project 介绍,按照 STAR 原则给 Outline, Framework, Pipeline,不要纠缠细节,争取 2 min 说清楚,是什么,为什么,做了什么。
经验 2
OPT 可以自己申请,不需要工作 offer 也可以申请,现在可以网申好很多,早点确定好计划表和时间节点。毕业前 90 days AND 毕业后 60 days.
OPT 需要注意报告如下事项,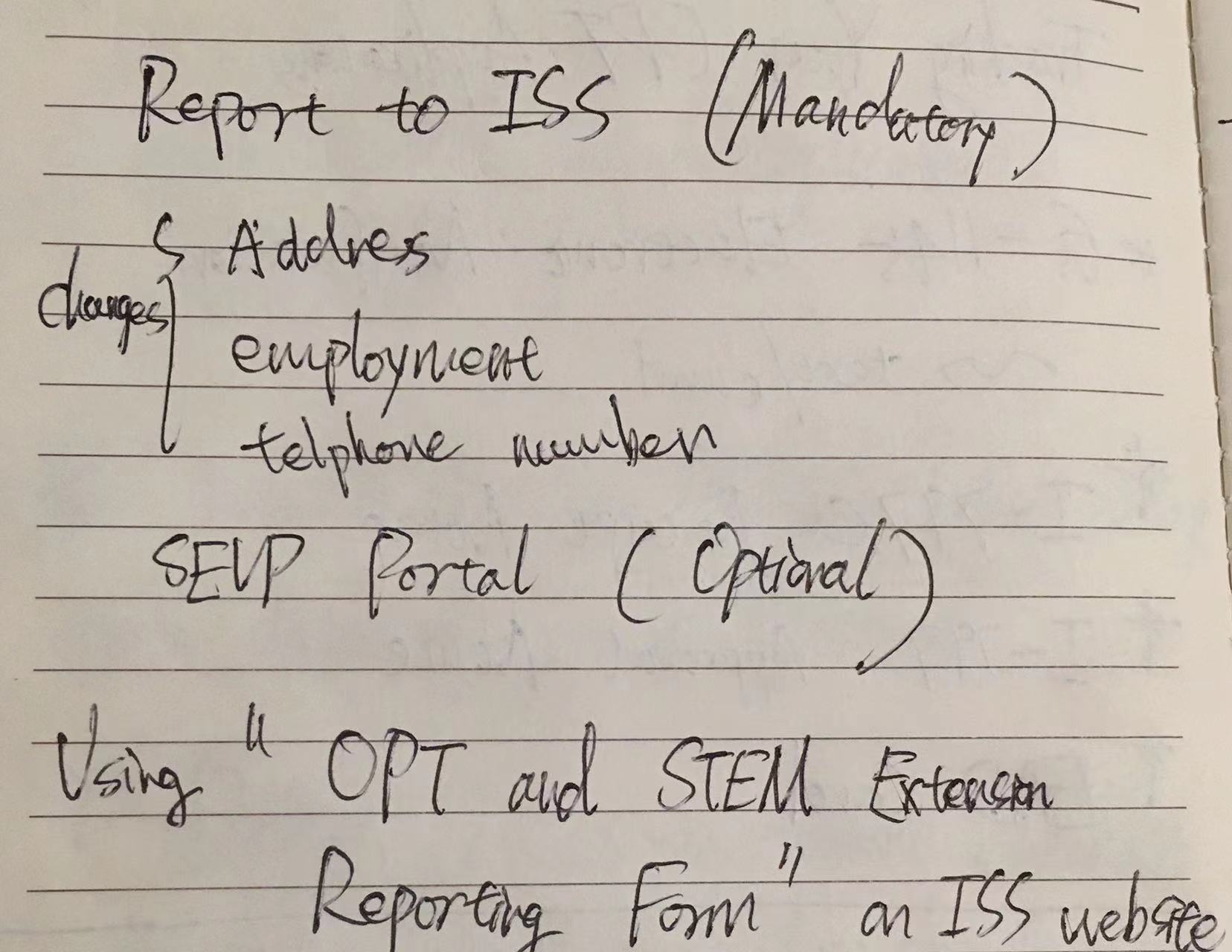 经验 3
对于 Ph.D. 不要说自己不喜欢学术界,说自己更喜欢工业界,比如你喜欢数据,Industry 有 real world data,big data and real business problem
经验 4
如果问到你不知道答案的问题,那么你可以用下面的话术,求 Hints。不要慌,最差最差就是面试失败,这也没啥。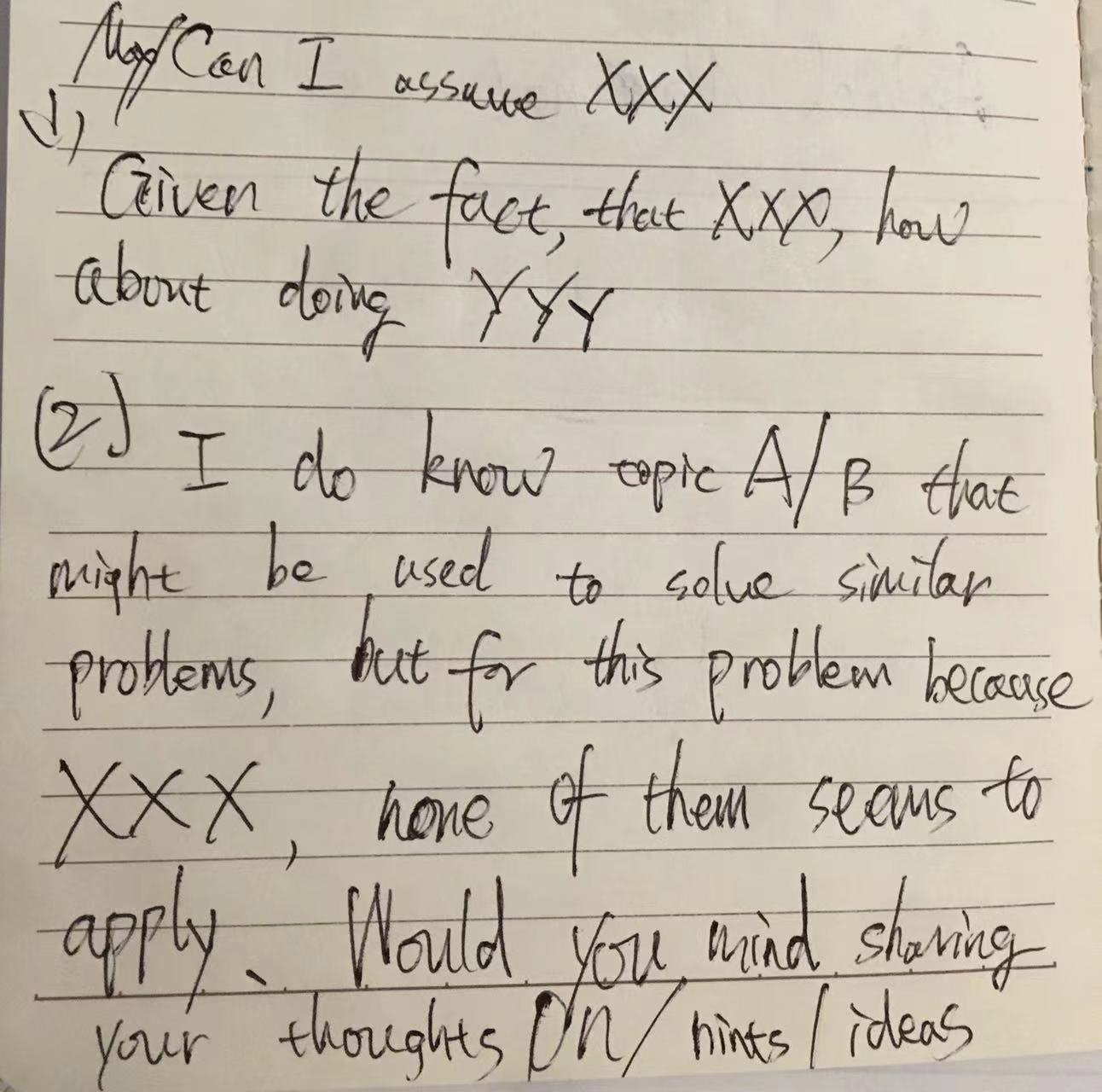 经验 5
听清问题
很多问题是你没理解问题,事实上,推荐你就是听清了,也可以 repeat the question to check & get more time to think before answer immediately
要例子,要 Example!
抽象地讨论很难表现很好,结合具体的例子更加好。Could you give an example about XXX? I want to clarfy that I understand the question correctly with this example, is this what you want?
经验 6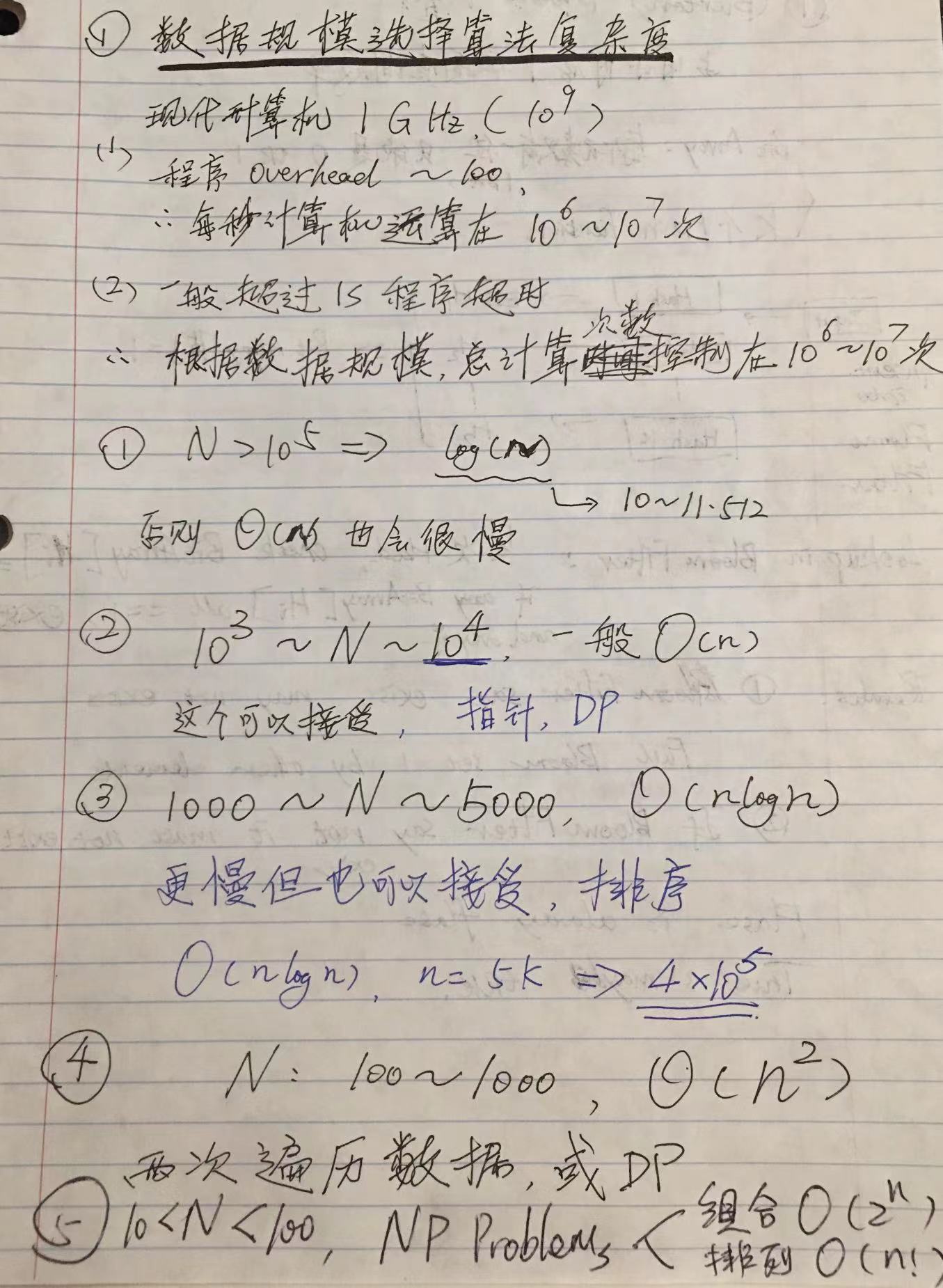 经验 7
经验 8
Python Starting Notes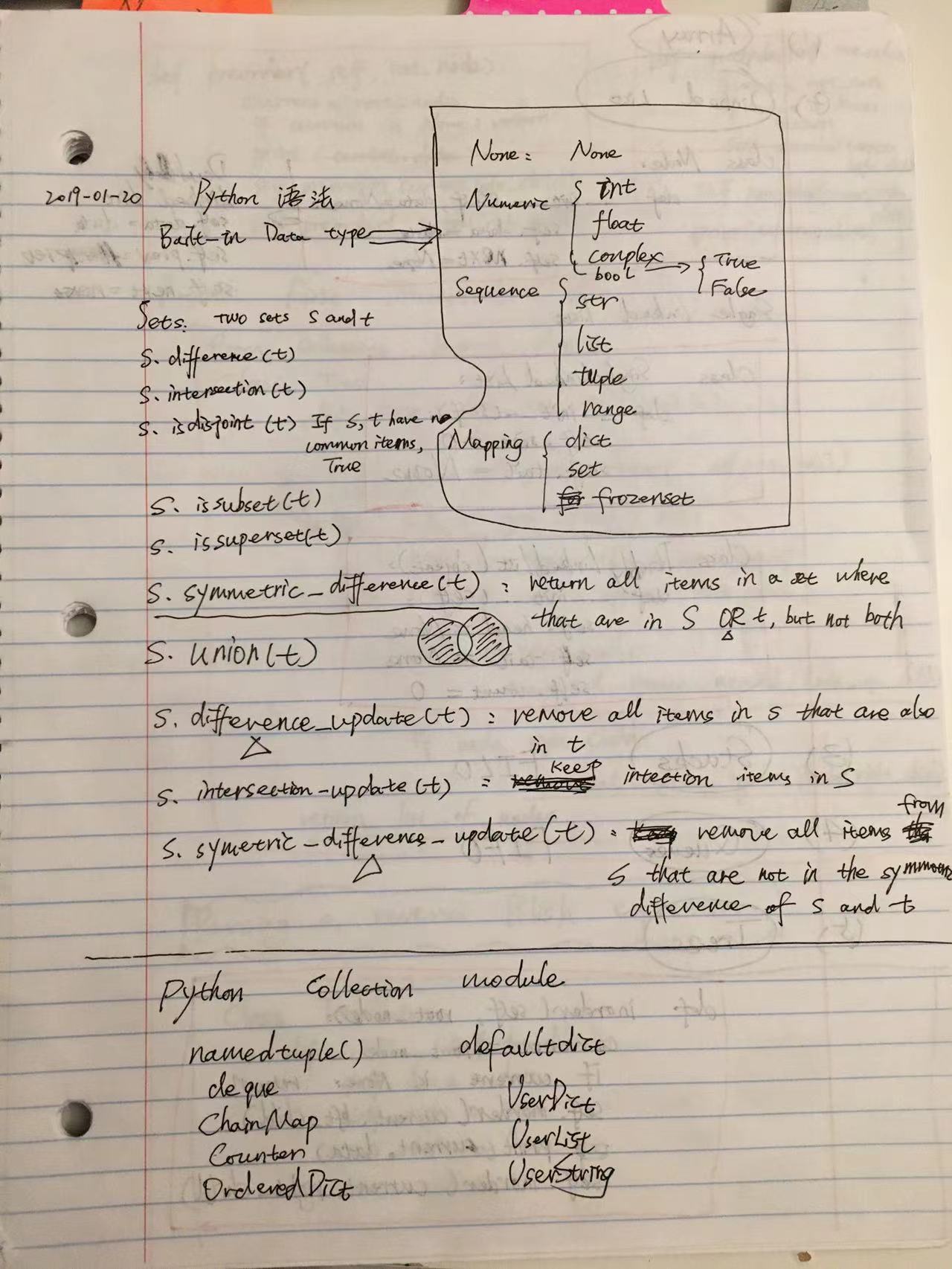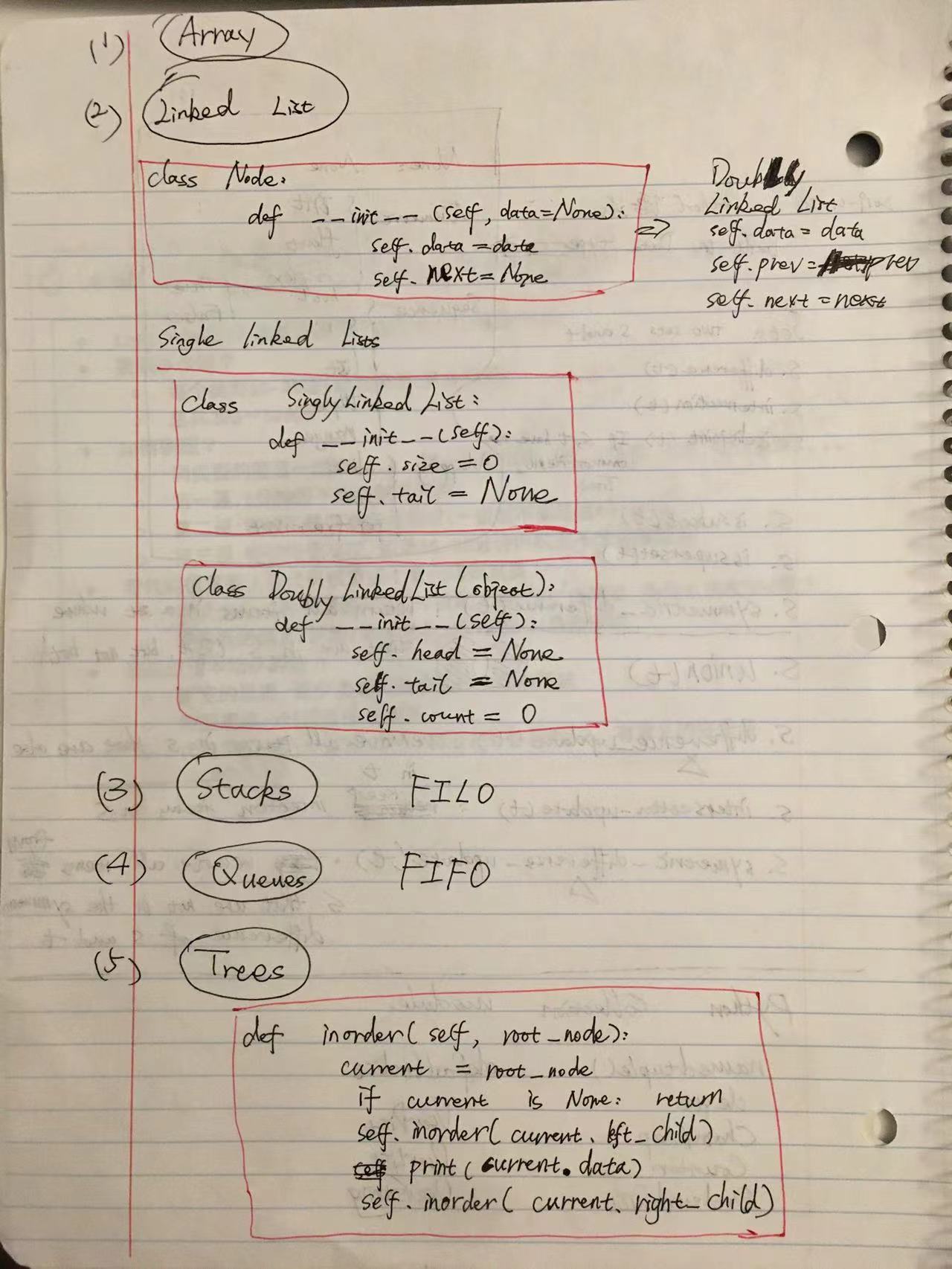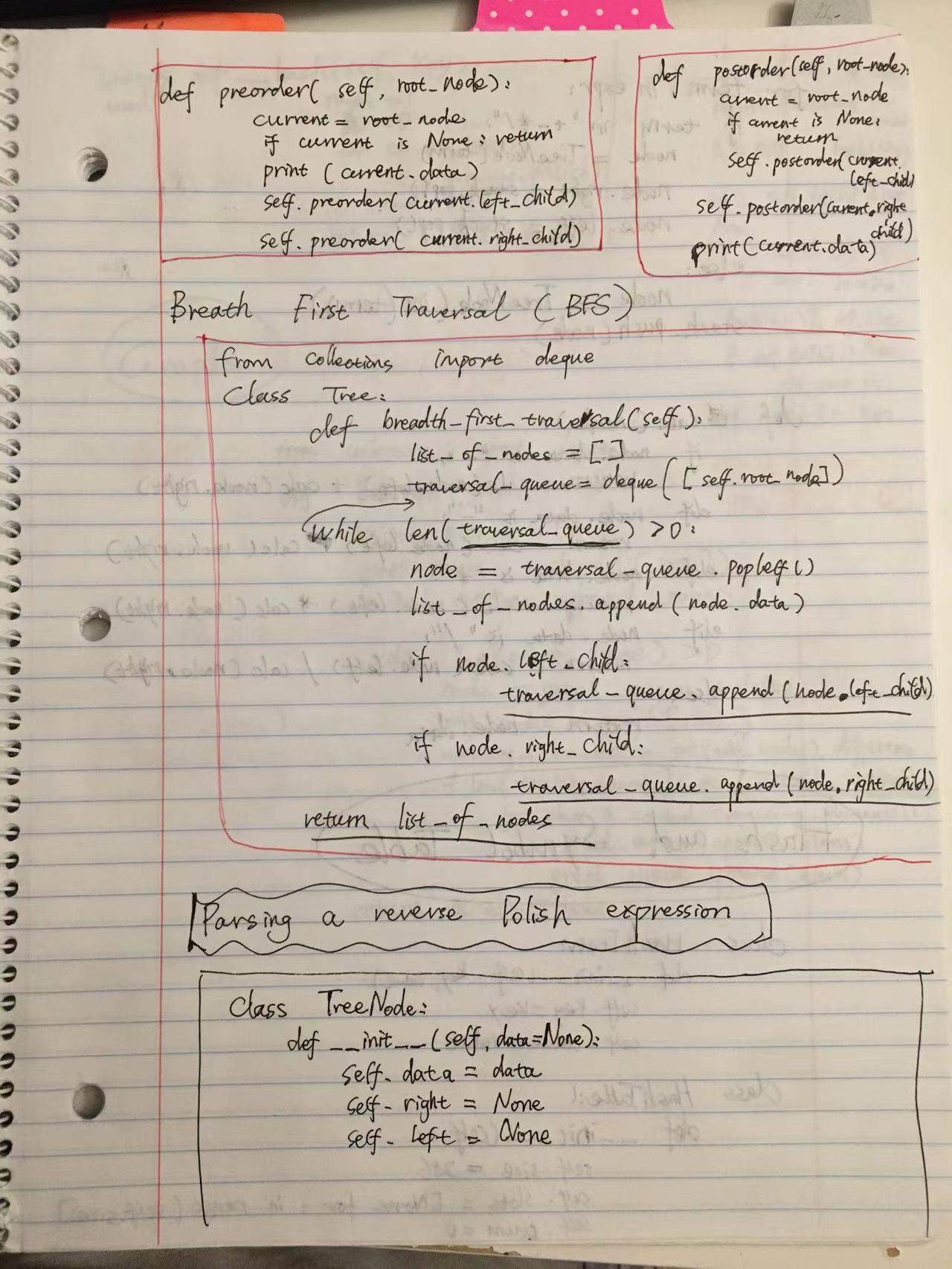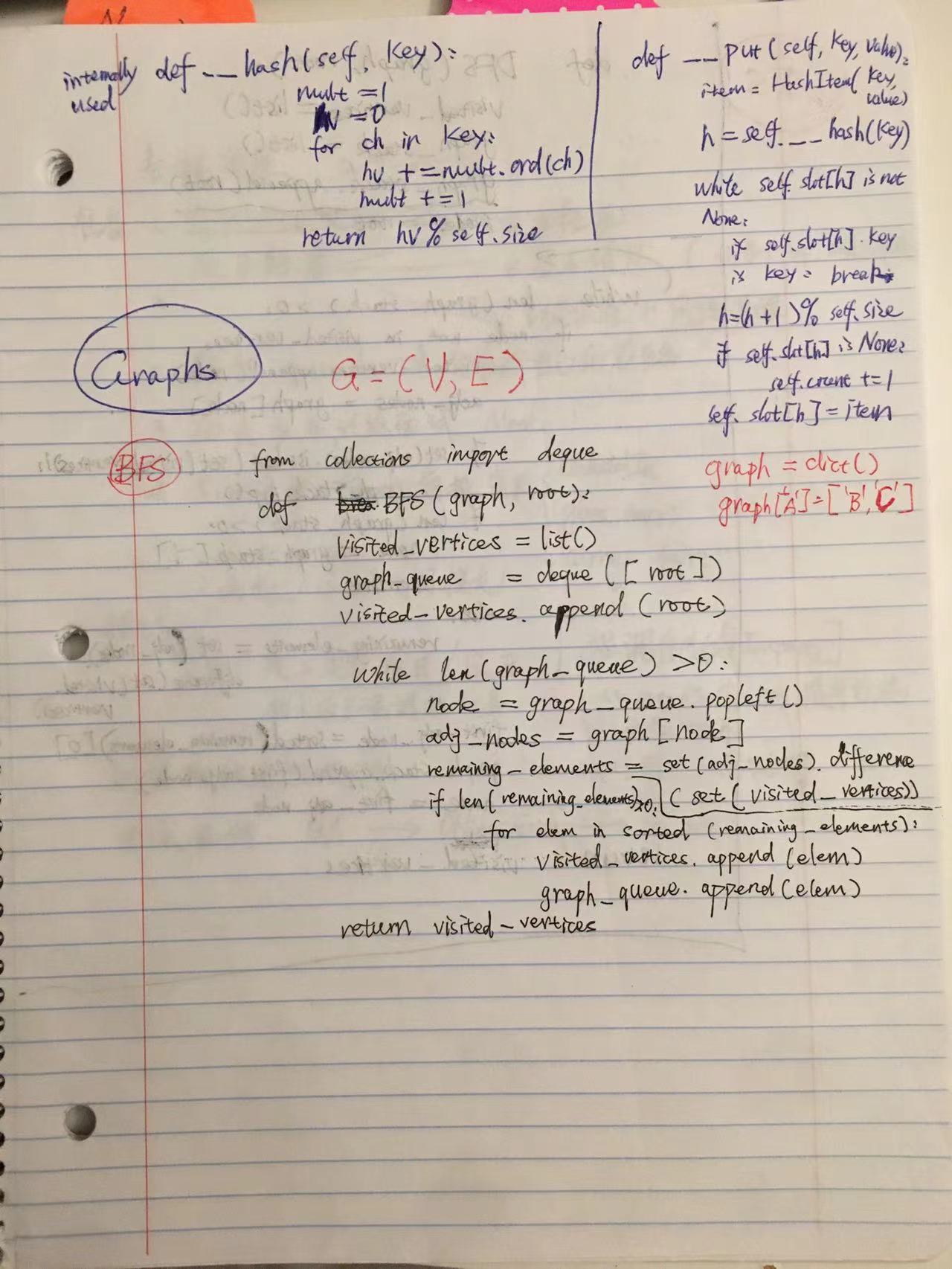 Final Summary
永远不要放弃。
贴下我找工作的 List, 我这儿有 747 个,但是没记录下来的大概也有300+,所以如果你还没投简历到 500+,别说自己找不到工作。
| Company Name | Postition | Applied Date |   |   |
| --- | --- | --- | --- | --- |
| Syverson Group | Data Engineer | 2021-06-02 |   |   |
| Microsoft | Data & Applied Sciences: Full Time Opportunities for PhD Graduates | 2021-08-18 |   |   |
| Apple | Machine Learning Engineer - Computer Vision Retail Engineering | 2021-08-18 |   |   |
| Braid Health | Machine Learning Engineer | 2021-08-18 |   |   |
| Logikk | Machine Learning Engineer | 2021-08-18 |   |   |
| LVIS Corporation | Machine Learning Engineer | 2021-08-19 |   |   |
| Quinn | Machine Learning Engineer | 2021-08-19 |   |   |
| Big Cloud | Machine Learning Engineer | 2021-08-19 |   |   |
| Harnham | Machine Learning Engineer | 2021-08-19 |   |   |
| The Clorox Company | Data Scientist | 2021-08-19 |   |   |
| Roblox | Data Scientist - Developer Services | 2021-08-19 |   |   |
| test.ai | Machine Learning Engineer | 2021-08-19 |   |   |
| Modular Science | Machine Learning Engineer | 2021-08-19 |   |   |
| Verantos | Artificial Intelligence Engineer, Machine Learning | 2021-08-19 |   |   |
| BetterHelp.com | Machine Learning Engineer | 2021-08-19 |   |   |
| Pocket Gems | Data Scientist | 2021-08-19 |   |   |
| Larsen & Toubro | Machine Learning Engineer | 2021-08-19 |   |   |
| 2K | Machine Learning Engineer | 2021-08-19 |   |   |
| Nimble Robotics | Computer Vision and Perception Engineer | 2021-08-19 |   |   |
| MoTek Technologies | Research Engineer, Machine Learning / Computer Vision | 2021-09-02 |   |   |
| Orbital Sidekick | Machine Learning Scientist | 2021-09-02 |   |   |
| Jabient Inc | Machine Learning research Engineer | 2021-09-02 |   |   |
| Quinn | Machine Learning Engineer | 2021-09-02 |   |   |
| NeuroPace | Machine Learning Intern | 2021-09-02 |   |   |
| Aibee Inc. | Algorithm Engineer–Computer Vision | 2021-09-02 |   |   |
| Data Safeguard Inc. | Machine Learning Engineer | 2021-09-02 |   |   |
| Tiposi | AI/ML Engineer | 2021-09-02 |   |   |
| Walmart Global Tech | Staff Data Scientist - Smart Forecasting | 2021-09-02 |   |   |
| Jobot | Senior Data Scientist | 2021-09-02 |   |   |
| Ripple | Senior Data Scientist, Insights (Payments Intelligence) | 2021-09-02 |   |   |
| X4 Technology | Machine Learning Engineer | 2021-09-02 |   |   |
| Visual Concepts | Machine Learning Engineer | 2021-09-02 |   |   |
| Wish | Sr. Data Scientist, Pricing | 2021-09-02 |   |   |
| Infogain | Machine Learning Engineer | 2021-09-02 |   |   |
| Jabient Inc | Machine Learning research Engineer | 2021-09-02 |   |   |
| Wish | Sr. Data Scientist, Demand Modeling | 2021-09-02 |   |   |
| Octave Bioscience | Lead Data Scientist - Biology | 2021-09-02 |   |   |
| Harnham | Senior Data Scientist | 2021-09-02 |   |   |
| LVIS Corporation | Machine Learning Engineer | 2021-09-02 |   |   |
| Top Choice Recruiting | Machine Learning Engineer | 2021-09-02 |   |   |
| Addastaff Consulting Incorporated | Data Scientist | 2021-09-02 |   |   |
| XII Medical | Algorithm Engineer | 2021-09-03 |   |   |
| Techaxis, Inc | Machine Learning Developer | 2021-09-03 |   |   |
| Smith Hanley Associates | Machine Learning Engineer | 2021-09-03 |   |   |
| Deepgram | AI Engineer | 2021-09-03 |   |   |
| MicroVision | 3D Computer Vision / Machine Learning Engineer | 2021-09-03 |   |   |
| Liftoff Mobile | Machine Learning Engineer | 2021-09-03 |   |   |
| Fyusion, Inc | Research Scientist/Research Engineer, Computer Vision | 2021-09-03 |   |   |
| Martin & Conley Ltd | Deep Learning Engineer | 2021-09-03 |   |   |
| Windfall | Machine Learning Engineer | 2021-09-03 |   |   |
| Woflow | Data Scientist | 2021-09-04 |   |   |
| Goldman Sachs | Machine Learning Engineer | 2021-09-04 |   |   |
| Chan Zuckerberg Initiative | Staff Data Scientist, Education | 2021-09-04 |   |   |
| Cypress HCM | Data Scientist | 2021-09-04 |   |   |
| PwC | Anti-Financial Crimes, Data Scientist, Sr. Assoc. (Financial Services) | 2021-09-04 |   |   |
| Snap Inc. | Product Data Scientist, Spotlight | 2021-09-04 |   |   |
| Microsoft | Software Engineering: Full Time Opportunities for University Graduates Engaged with Microsoft Sponsored Organizations | 2021-09-04 |   |   |
| HCL Technologies | Entry Level Data Scientist | 2021-09-05 |   |   |
| Alife Health | Data Scientist | 2021-09-09 |   |   |
| Tech Mahindra | Machine Learning Engineer | 2021-09-09 |   |   |
| Lawrence Harvey | Computer Vision / Machine Learning Engineer | 2021-09-09 |   |   |
| Cisco | Data Scientist | 2021-09-09 |   |   |
| Specific Diagnostics | Data Scientist/Data Analysis | 2021-09-13 |   |   |
| TDA Creative | Data Scientist (Deep Learning) | 2021-09-13 |   |   |
| Mage | Machine Learning Engineer | 2021-09-13 |   |   |
| Insider, Inc | Data Scientist | 2021-09-13 |   |   |
| Braid Health | Machine Learning Engineer | 2021-09-15 |   |   |
| SR2 | Machine Learning Engineer | 2021-09-15 |   |   |
| ATCSEARCH | Machine Learning Engineer | 2021-09-15 |   |   |
| Evernote | Data Scientist, Product Analytics | 2021-09-15 |   |   |
| D. E. Shaw Research | Machine Learning Engineers | 2021-09-16 |   |   |
| Algorithm Developer | Theery | 2021-09-27 |   |   |
| Machine Learning Engineer | DURLSTON PARTNERS | 2021-09-27 |   |   |
| Machine Learning Engineer | Harnham | 2021-09-27 |   |   |
| Data Scientist, Product Analytics | Evernote | 2021-09-27 |   |   |
| Computer Vision Engineer | Harnham | 2021-09-27 |   |   |
| Data Scientist | Xometry | 2021-09-27 |   |   |
| Python Developer | Genpact | 2021-09-27 |   |   |
| Data Scientist | The Goal | 2021-09-27 |   |   |
| Machine Learning Engineer | Morpheus Group | 2021-09-27 |   |   |
| Machine Learning Researcher | Intelletec | 2021-09-27 |   |   |
| Machine Learning Engineer | Cobalt Robotics | 2021-09-27 |   |   |
| Data Scientist/Data Analysis | Specific Diagnostics | 2021-09-27 |   |   |
| Lead Computer Vision Engineer | Stealth Startup | 2021-09-27 |   |   |
| Alkymi | Data Scientist | 2021-10-01 |   |   |
| Logikk | Machine Learning Engineer - MLOps | 2021-10-01 |   |   |
| InVitro Cell Research, LLC | Machine Learning Engineer | 2021-10-01 |   |   |
| Alife Health | Data Scientist (Remote) | 2021-10-01 |   |   |
| Calico Life Sciences | Bioimaging Data Scientist | 2021-10-01 |   |   |
| topGrads | Data Scientist | 2021-10-01 |   |   |
| Spectrum Labs | Machine Learning Engineer | 2021-10-01 |   |   |
| Mathematica | Data Scientist | 2021-10-04 |   |   |
| Wabtec Corporation | Vision and Automation Engineer | 2021-10-25 |   |   |
| Citrine | Data Engineer | 2021-11-02 |   |   |
| Tesla | Manufc | 2021-11-21 |   |   |
| Tesla | AI | 2021-11-21 |   |   |
| Epic | Project Manager | 2021-11-21 |   |   |
| Epic | SDE | 2021-11-21 |   |   |
| Applied Materials | Algorithm Developer | 2021-11-22 |   |   |
| Applied Materials | Machine Learning Engineer | 2021-11-22 |   |   |
| Delta Electronics (Americas) | Field Application Engineer | 2021-11-22 |   |   |
| Sila Nanotechnologies | R&D | 2021-11-22 |   |   |
| Meta | AI/ML - ML Applied Scientist, ML Platform & Technology | 2021-11-22 |   |   |
| OpenAI | AI/ML - ML Applied Scientist, ML Platform & Technology | 2021-11-22 |   |   |
| Theron Solutions | Data Scientist | 2021-11-22 |   |   |
| ClearObject | Data Scientist | 2021-11-22 |   |   |
| ClearGage LLC | Data Scientist/Reporting Analyst | 2021-11-22 |   |   |
| Avesta Computer Services | Machine Learning Engineer - 100 % Remote | 2021-11-22 |   |   |
| Axiado Corporation | Machine Learning Engineer | 2021-11-22 |   |   |
| Visual Concepts | Machine Learning Engineer | 2021-11-22 |   |   |
| SparkCognition | Machine Learning Engineer | 2021-11-22 |   |   |
| Stealth Mode Startup Biotech | Machine Learning Engineer | 2021-11-22 |   |   |
| Pocket Gems | Data Scientist | 2021-11-22 |   |   |
| TikTok | Machine Learning Engineer | 2021-11-22 |   |   |
| Tessellation | Data Scientist | 2021-11-22 |   |   |
| Sia Partners | Data Scientist | 2021-11-22 |   |   |
| Mobinity Global | Data Scientist | 2021-11-23 |   |   |
| Storm4 | Machine Learning Engineer | 2021-11-23 |   |   |
| GGWP | Data Scientist | 2021-11-23 |   |   |
| Incedo Inc | Machine Learning with AI | 2021-11-23 |   |   |
| Harnham | Machine Learning Engineer | 2021-11-23 |   |   |
| Trilogy International | Machine Learning Engineer | 2021-11-23 |   |   |
| Tykhe Inc | Machine Learning Engineer | 2021-11-23 |   |   |
| CyberCoders | Senior Machine Learning Engineer (Remote) | 2021-11-23 |   |   |
| Genesys | Software Engineer | 2021-11-23 |   |   |
| Kraken Digital Asset Exchange | Software Engineer (SDET) - Python - Banking | 2021-11-23 |   |   |
| Limeade | Machine Learning Engineer | 2021-11-23 |   |   |
| Collibra | Machine Learning Operations Engineer | 2021-11-23 |   |   |
| Car Max | Data Scientist - Pricing Systems | 2021-11-23 |   |   |
| Ensigna Biosystems, Inc | Scientist | 2021-11-24 |   |   |
| Rabi Solutions | Data Scientist | 2021-11-24 |   |   |
| Optomi | Data Scientist II | 2021-11-24 |   |   |
| Storm4 | Machine Learning Engineer | 2021-11-24 |   |   |
| Golden State Warriors | Data Scientist | 2021-11-24 |   |   |
| Insight Global | Machine Learning Engineer | 2021-11-24 |   |   |
| Lily AI | Machine Learning Engineer | 2021-11-24 |   |   |
| TRIAD Group, Inc. | Machine Learning Engineer | 2021-11-24 |   |   |
| HAMMOQ | Machine Vision Engineer | 2021-11-24 |   |   |
| DoorDash | Software Engineer, Developer Productivity | 2021-11-25 |   |   |
| Jobot | Software Engineer (Req HS2021-84) | 2021-11-25 |   |   |
| Big Cloud | Machine Learning Engineer | 2021-11-25 |   |   |
| Buxton Consulting | Machine Learning AI Engineer | 2021-11-25 |   |   |
| Abacus.AI | Machine Learning Engineer | 2021-11-25 |   |   |
| Spin (Ford Motor Company) | Machine Learning Engineer | 2021-11-25 |   |   |
| Domino's | Machine Learning Engineer | 2021-11-25 |   |   |
| VertexBlue | Data Science Engineer | 2021-11-25 |   |   |
| Resources | AL ML/ Data Engineer | 2021-11-25 |   |   |
| Overstock.com | Machine Learning Engineer | 2021-11-25 |   |   |
| SFL Scientific | AI Data Engineer | 2021-11-25 |   |   |
| Hugging Face | Machine Learning Solutions Engineer | 2021-11-25 |   |   |
| NLB Services | AI Data Engineer | 2021-11-25 |   |   |
| VISO Trust | Machine Learning Engineer | 2021-11-25 |   |   |
| CyberCoders | Machine Learning Engineer (Remote) - AI/NLP/Django | 2021-11-25 |   |   |
| Diversigen, Inc. | Data Scientist III-R&D Informatics | 2021-11-25 |   |   |
| ClearPrism | Senior Machine Learning Engineer | 2021-11-25 |   |   |
| Knight Source Group, LLC | Software Engineer | 2021-11-25 |   |   |
| ScaleneWorks People Solutions LLP | Machine Learning Engineer | 2021-11-25 |   |   |
| Jobot | Machine Learning Engineer (Python / NLP) | 2021-11-25 |   |   |
| Riverside Staffing, LLC | Data Scientist - PMX | 2021-11-25 |   |   |
| Focus GTS | Senior Machine Learning Engineer | 2021-11-25 |   |   |
| Net2Source Inc. | Lead Machine Learning Engineer | 2021-11-25 |   |   |
| MantisNet | eBPF Developer / Software Engineer | 2021-11-25 |   |   |
| Infinity Consulting Solutions | Senior Machine Learning Engineer-Remote - 21-06488 | 2021-11-25 |   |   |
| NLB Services | Machine Learning Engineer | 2021-11-25 |   |   |
| A Stealth Mode Life Science Company | Data Scientist (Bioinformatics) | 2021-11-25 |   |   |
| BigRio | Data Scientist-Reinforcement Learning / ML Optimization | 2021-11-25 |   |   |
| Enovation Analytics | Machine Learning Engineer Energy Storage -100% Remote | 2021-11-25 |   |   |
| Zume Search | Machine Learning Engineer | 2021-11-25 |   |   |
| Optello | Machine Learning Engineer-Fully Remote! | 2021-11-25 |   |   |
| Quest Groups LLC | Senior Machine Learning Engineer | 2021-11-25 |   |   |
| Cadent | Machine Learning Engineer | 2021-11-25 |   |   |
| Brooksource | Data Scientist | 2021-11-25 |   |   |
| Robinson Group | Data Scientist | 2021-11-25 |   |   |
| Nod.ai | Machine Learning Systems Engineer | 2021-11-25 |   |   |
| TDA Creative | Founding Data Scientist | 2021-11-25 |   |   |
| Integrity Power Search | Software Integration Engineer | 2021-11-25 |   |   |
| Visionaire Partners | Data Scientist or CDO | 2021-11-25 |   |   |
| Hire Velocity | Data Scientist III (Remote) | 2021-11-25 |   |   |
| Harnham | Image Analysis Scientist - Computer Vision | 2021-11-25 |   |   |
| OSI Engineering | Computer Vision Engineer for Sports Broadcasting Company (Remote in US) | 2021-11-25 |   |   |
| Olive | Machine Learning Engineer | 2021-11-25 |   |   |
| InVitro Cell Research, LLC | Machine Learning Engineer | 2021-11-25 |   |   |
| Jobot | Senior Machine Learning Engineer - REMOTE | 2021-11-27 |   |   |
| Tredence Inc | Software Engineer | 2021-11-27 |   |   |
| Startup (in Stealth Mode) | Machine Learning and Data Science Applied Scientist | 2021-11-27 |   |   |
| 1871 Chicago, IL | Data Scientist / Machine Learning Engineer | 2021-11-27 |   |   |
| Harnham | Machine Learning Engineer | 2021-11-27 |   |   |
| Rank Consulting Group | Image Scientist | 2021-11-27 |   |   |
| Optello | Machine Learning Engineer | 2021-11-27 |   |   |
| Insight Global | Data Scientist | 2021-11-27 |   |   |
| Zebit | Data Scientist (Marketing) | 2021-11-27 |   |   |
| CyberCoders | Senior Machine Learning Engineer (NLP) - REMOTE | 2021-11-27 |   |   |
| MeetKai Inc. | Machine Learning Software Engineer - Remote | 2021-11-27 |   |   |
| CyberCoders | REMOTE Software Engineer - AI, ML | 2021-11-27 |   |   |
| DoorDash | Software Engineer, Experimentation | 2021-11-27 |   |   |
| DoorDash | Software Engineer, Data Products | 2021-11-27 |   |   |
| DoorDash | Software Engineer, Data Products | 2021-11-27 |   |   |
| Jobot | Lead AI/Machine Learning Engineer | 2021-11-27 |   |   |
| Jobot | Lead AI/Machine Learning Engineer | 2021-11-27 |   |   |
| Rogo | Founding Engineer | 2021-11-27 |   |   |
| Crypto Wallet Stealth Startup | Software Engineer | 2021-11-27 |   |   |
| Data Science Talent Ltd | Statistician Data Scientist | 2021-11-27 |   |   |
| Caserta | Data Engineer | 2021-11-27 |   |   |
| Pure Storage | Machine Learning Engineer, Pure1 | 2021-11-27 |   |   |
| CyberCoders | Software Engineer - C++/Python | 2021-11-27 |   |   |
| TDA Creative | Data Scientist - Growth | 2021-11-27 |   |   |
| Visual Concepts | AI Engineer - Software (NBA) | 2021-11-27 |   |   |
| Jobot | Machine Learning Operations Engineer | 2021-11-27 |   |   |
| Accolade, Inc. | Dir, Machine Learning Engineering | 2021-11-27 |   |   |
| ImmerSphere | Senior Computer Vision Engineer | 2021-11-27 |   |   |
| Startup (in Stealth Mode) | Machine Learning and Data Science Applied Scientist Lead | 2021-11-27 |   |   |
| Guardant Health | Sr. Bioinformatics Scientist, Machine Learning (Redwood City, CA OR San Diego, CA OR Seattle, WA) | 2021-11-27 |   |   |
| OSI Engineering | Software IoT Python Algorithm Engineer for next generation products | 2021-11-27 |   |   |
| Crystal Equation Corporation | AI Engineer | 2021-11-27 |   |   |
| Harnham | Machine Learning Engineer | 2021-11-27 |   |   |
| Optello | Lead Python Developer | 2021-11-27 |   |   |
| Olive | Data Scientist | 2021-11-27 |   |   |
| Beacon Hill Staffing Group | Lead Data Engineer | 2021-11-27 |   |   |
| Olive | Machine Learning Engineer - Assures (Payments) | 2021-11-27 |   |   |
| AI Startup in Stealth Mode | Customer Data Scientist | 2021-11-27 |   |   |
| Advent International | Data Scientist | 2021-11-27 |   |   |
| SR2 | Socially Responsible Recruitment | Certified B Corporation | Senior Machine Learning Engineer | 2021-11-27 |
| DoorDash | Autonomy Engineer | 2021-11-27 |   |   |
| A2Zxperts | Machine Learning Engineer | 2021-11-27 |   |   |
| Tempo | Senior Computer Vision Engineer | 2021-11-27 |   |   |
| Selby Jennings | Research Engineer - AI/ML | 2021-11-27 |   |   |
| Logic20/20, Inc | Data Scientist | 2021-11-27 |   |   |
| ProArch Consulting Services Private Limited | Founding Engineer, Data Platform | 2021-11-27 |   |   |
| Collabera Inc | Research Scientist | 2021-11-27 |   |   |
| Corigine | Software Engineer | 2021-11-27 |   |   |
| Experian | Data Scientist (Open to Remote) | 2021-11-27 |   |   |
| Precision Neuroscience | Data Scientist - Electrophysiology | 2021-11-27 |   |   |
| Ippon Technologies USA | Python Data Engineer | 2021-11-27 |   |   |
| Parker and Lynch | Software Engineer | 2021-11-27 |   |   |
| Diversified Services Network, Inc. | Data Scientist- Remote | 2021-11-27 |   |   |
| Olive | Data Scientist - Assures (Payments) | 2021-11-27 |   |   |
| Venus Concept | Software Engineer, Computer Vision | 2021-11-27 |   |   |
| Dataminr | Research Scientist, Computer Vision | 2021-11-27 |   |   |
| ConvergeOne | AI Engineer | 2021-11-27 |   |   |
| TEKtalent Inc | Software Developer Entry Level | 2021-11-27 |   |   |
| involve.ai | Data Scientist | 2021-11-27 |   |   |
| Fitch Ratings | Data Scientist | 2021-11-27 |   |   |
| Tiger Analytics | Senior Data Scientist (IL) | 2021-11-27 |   |   |
| XSELL Technologies | Data Scientist (Remote) | 2021-11-27 |   |   |
| The Marketing Store, North America Greater Chicago Area Hybrid | Data Scientist | 2021-11-27 |   |   |
| Johnson & Johnson | Advanced Python Developer/ Machine Learning Engineer - Sr Analyst | 2021-11-27 |   |   |
| Oda Studio | Computer Vision Research Engineer | 2021-11-29 |   |   |
| TackleAI | Machine Learning Engineer | 2021-11-29 |   |   |
| DoorDash | Software Engineer, Data Products | 2021-11-29 |   |   |
| NewsBreak | Machine Learning Engineer | 2021-11-29 |   |   |
| Noria Water Technologies | Machine Learning Engineer | 2021-11-29 |   |   |
| Oda Studio | Computer Vision Research Engineer | 2021-11-29 |   |   |
| Quantiphi | Machine Learning Engineer/Architect | 2021-11-29 |   |   |
| Minsait | Data Scientist | 2021-11-29 |   |   |
| Dataminr | Research Scientist, Computer Vision | 2021-11-29 |   |   |
| Phreesia | Data Scientist | 2021-11-29 |   |   |
| JBI Software,INC | MACHINE LEARNING SPECIALIST | 2021-11-29 |   |   |
| VMware | Machine Learning Engineer - Opportunity for Working Remotely | 2021-11-29 |   |   |
| Affirm | Software Engineer, Backend (Membership) | 2021-11-29 |   |   |
| Backstage | Software Engineer - Python / Django | 2021-11-29 |   |   |
| Spot AI | Artificial Intelligence Software Engineer | 2021-11-29 |   |   |
| Intelletec | Machine Learning Researcher | 2021-11-29 |   |   |
| Ocurate | Data Scientist | 2021-11-29 |   |   |
| Goldman Sachs | Software Engineer | 2021-11-29 |   |   |
| GE Research | Computer Vision Scientists | 2021-11-29 |   |   |
| GE Research | Machine Learning Researcher | 2021-11-29 |   |   |
| DataChat | Machine Learning Software Developer | 2021-11-29 |   |   |
| Lucid Lane | ML OPS | 2021-11-29 |   |   |
| IBM | Data Scientist 1 | 2021-11-29 |   |   |
| IBM | Data Scientist 2 | 2021-11-29 |   |   |
| IBM | Data Scientist 3 | 2021-11-29 |   |   |
| nextOPP Search | Machine Learning Engineer | 2021-11-30 |   |   |
| Gap Inc | Data Scientist - Product Analytics | 2021-12-01 |   |   |
| Shipt | Data Scientist (Analytics) , Offering and Bundling (Remote) | 2021-12-01 |   |   |
| The AI Foundation | Research Engineer (Computer Vision) - Remote | 2021-12-01 |   |   |
| Verkada | Software Engineer, Computer Vision - University Graduate 2022 | 2021-12-01 |   |   |
| FLYR Labs | Machine Learning Engineer | 2021-12-01 |   |   |
| Ancestry | Senior Data Scientist, Computer Vision | 2021-12-01 |   |   |
| Scale AI | Senior/Staff Data Scientist (Remote) | 2021-12-01 |   |   |
| Caper | Computer Vision Engineer | 2021-12-01 |   |   |
| Parafin | Data Scientist | 2021-12-01 |   |   |
| Dice | Data Scientist - 100% Remote | 2021-12-01 |   |   |
| RCH Solutions | Data Scientist | 2021-12-01 |   |   |
| insitro | Computer Vision Machine Learning Engineer | 2021-12-01 |   |   |
| Sidewalk Labs | Machine Learning Engineer | 2021-12-01 |   |   |
| Samba TV | Machine Learning Engineer | 2021-12-01 |   |   |
| W3Global | Computer Vision Software Engineer | 2021-12-01 |   |   |
| Spotline Inc | Python Developer | 2021-12-01 |   |   |
| Toyota Connected North America | Machine Learning Engineer | 2021-12-01 |   |   |
| dbt Labs | Analytics Engineer | 2021-12-01 |   |   |
| Allegis Global Solutions | Data Engineer | 2021-12-01 |   |   |
| QuantumWork | Data Engineer | 2021-12-01 |   |   |
| Cloud7 IT LLC | Watchguard Engineer | 2021-12-01 |   |   |
| Collabera Inc | Machine Learning Engineer | 2021-12-01 |   |   |
| EyeRate | Senior Software Engineer | 2021-12-01 |   |   |
| SalesIntel.io | Data Engineer | 2021-12-01 |   |   |
| MediaWallah | Data/Full Stack Engineer | 2021-12-01 |   |   |
| Burtch Works | Data Scientist | 2021-12-01 |   |   |
| 4YouandMe | Data Scientist | 2021-12-01 |   |   |
| Medasource | Pharmacy Data Scientist | 2021-12-01 |   |   |
| Data Scientist | Data/Full Stack Engineer | 2021-12-01 |   |   |
| InfoObjects Inc | Backend Developer (Python) | 2021-12-01 |   |   |
| Confidential | Data Engineer | 2021-12-01 |   |   |
| Ventus Therapeutics | Computational Research Scientist | 2021-12-01 |   |   |
| AutoRoboto | Data Scientist | 2021-12-01 |   |   |
| Yoh, A Day & Zimmermann Company | Machine Learning Engineer (Computer Vision) | 2021-12-01 |   |   |
| Datum Source | Computational Geometry Software Engineer | 2021-12-01 |   |   |
| Aromyx Corporation | Data Scientist | 2021-12-01 |   |   |
| Dataminr | Research Scientist, Computer Vision | 2021-12-01 |   |   |
| TSMC | AI Hardware Research Engineer | 2021-12-01 |   |   |
| New Dimensions in Technology, Inc. (NDT) | Algorithm Engineer | 2021-12-01 |   |   |
| DoorDash | Research Scientist | 2021-12-01 |   |   |
| Income Discovery | Machine Learning Engineer | 2021-12-01 |   |   |
| Hosta a.i. | Senior Computer Vision Engineer | 2021-12-01 |   |   |
| Skai | Data Scientist | 2021-12-01 |   |   |
| CyberCoders | Machine Learning Engineer (Remote) - AI/NLP/Django | 2021-12-01 |   |   |
| Deloitte Digital | AI Engineer | 2021-12-01 |   |   |
| Insight Global | Remote Artificial Intelligence Developer | 2021-12-01 |   |   |
| Storm4 | Machine Learning Engineer | 2021-12-01 |   |   |
| Robert Half Technology | Computer Vision Engineer | 2021-12-01 |   |   |
| Quinlan School of Business, Loyola University Chicago | Research Assistant | 2021-12-01 |   |   |
| Startup (in Stealth Mode) | Computer Vision and Image Processing Applied Scientist | 2021-12-01 |   |   |
| Skytop Staffing | Algorithm Engineer | 2021-12-01 |   |   |
| Simerse | Computer Vision Engineer — Industrial AI Startup, Remote | 2021-12-01 |   |   |
| Optello | Machine Learning Engineer-Fully Remote! | 2021-12-01 |   |   |
| HP | Computer Vision Developer, Senior | 2021-12-01 |   |   |
| nSight Surgical | Computer Vision Engineer | 2021-12-01 |   |   |
| NEXA3D | Algorithm Engineer (Computational Geometry) | 2021-12-01 |   |   |
| ChainLink | Data Scientist | 2021-12-01 |   |   |
| Black Sesame Technologies Inc | Senior Software Engineer (H1B Welcome) | 2021-12-01 |   |   |
| Black Sesame Technologies Inc | Senior Engineer, AI Framework Software | 2021-12-01 |   |   |
| Clarus | Machine Learning Engineer | 2021-12-02 |   |   |
| ZL Tech | Data Scientist | 2021-12-02 |   |   |
| Alto Dallas-Fort Worth Metroplex | Machine Learning Engineer | 2021-12-02 |   |   |
| Masterworks.io | Data Engineer | 2021-12-02 |   |   |
| SignalPET | Machine Learning Engineer | 2021-12-02 |   |   |
| Optello | Computer Vision Engineer | 2021-12-02 |   |   |
| Photon | ML Scientist | 2021-12-02 |   |   |
| Capital TechSearch | Machine Learning Engineer | 2021-12-02 |   |   |
| Telivy | Junior Software Engineer | 2021-12-02 |   |   |
| Prisma Softwares | Software Engineer | 2021-12-02 |   |   |
| Parafin | Data Scientist | 2021-12-02 |   |   |
| VIDA | Algorithm Scientist | 2021-12-02 |   |   |
| DiDi | Machine Learning Engineers & Scientists | 2021-12-02 |   |   |
| Honda Research Institute USA | Computer Vision Scientist: Language and Vision | 2021-12-02 |   |   |
| Grammarly | Software Engineer, Machine Learning | 2021-12-02 |   |   |
| Grammarly | Software Engineer, Machine Learning Platform | 2021-12-02 |   |   |
| Affirm | Software Engineer | 2021-12-02 |   |   |
| Nostra | Software Engineer | 2021-12-02 |   |   |
| Modis | Application Software Engineer | 2021-12-02 |   |   |
| Ceevra, Inc | Machine Learning / Computer Vision Software Engineer | 2021-12-03 |   |   |
| QCraft | Computer Vision Research Engineer | 2021-12-03 |   |   |
| OSI Engineering | Computer Vision Engineer for Sports Broadcasting Company (Remote in US) | 2021-12-03 |   |   |
| Acceler8 Talent | Machine Learning Engineer | 2021-12-03 |   |   |
| Romeo Power, Inc | Battery Machine Learning Engineer/Data Scientist | 2021-12-03 |   |   |
| Hach | Data Scientist / Engineer - Remote | 2021-12-03 |   |   |
| Riiid Labs | Machine Learning Engineer | 2021-12-03 |   |   |
| ServiceNow | Machine Learning Engineer - ATG | 2021-12-03 |   |   |
| Acceler8 Talent | Research Engineer, (Machine Learning) | 2021-12-03 |   |   |
| Beacon Hill Staffing Group | Lead Data Engineer | 2021-12-03 |   |   |
| Accolade, Inc | Dir, Machine Learning Engineering | 2021-12-03 |   |   |
| Keck Medicine of USC | Data Scientist | 2021-12-03 |   |   |
| Slingshot Biosciences | AI Engineer | 2021-12-03 |   |   |
| Aktify | Senior Machine Learning Engineer | 2021-12-03 |   |   |
| Mastech Digital | Machine Learning Operations Engineer | 2021-12-03 |   |   |
| BigRio | Software Engineer | 2021-12-03 |   |   |
| Matterport | Senior Staff Principal Computer Vision Engineer | 2021-12-03 |   |   |
| KDR Recruitment USA | Machine Learning Engineer | 2021-12-03 |   |   |
| Aidéo Technologies | Data Scientist | 2021-12-03 |   |   |
| Asahi Intecc USA, Inc. | Research Engineer | 2021-12-03 |   |   |
| BASF | Computer Scientist, Quantum Machine Learning | 2021-12-03 |   |   |
| Tiger Analytics | Data Engineer - AWS | 2021-12-03 |   |   |
| Collabera Inc | Python Developer | 2021-12-03 |   |   |
| Cynet Systems | Software Engineer (Robotic Process Automation) | 2021-12-03 |   |   |
| Royal Cyber Inc | Data Scientist | 2021-12-03 |   |   |
| MTech Systems | Data Science Engineer | 2021-12-03 |   |   |
| Nomi Health | Data Engineer | 2021-12-03 |   |   |
| Pony.ai | Research Engineer - Machine Learning/Computer Vision | 2021-12-03 |   |   |
| PaxeraHealth | AI Engineer | 2021-12-03 |   |   |
| PARAGON Alpha | Data Engineer | 2021-12-03 |   |   |
| Kytopen | Lab Automation Engineer | 2021-12-03 |   |   |
| Harmer | Software Engineer/Data Quality team | 2021-12-03 |   |   |
| Selby Jennings | Senior Machine Learning Researcher/Engineer | 2021-12-03 |   |   |
| Sia Partners | Data Engineer | 2021-12-03 |   |   |
| Elemind Technologies, Inc. | AI/ML Machine Learning Engineer | 2021-12-03 |   |   |
| Experian | REMOTE AWS AI/ML Data Engineer, Experian Consumer Services | 2021-12-03 |   |   |
| Eliassen Group | Machine Learning Engineer | 2021-12-03 |   |   |
| Jobot | REMOTE Software Engineer (Python) | 2021-12-03 |   |   |
| Logikk | Machine Learning Engineer | 2021-12-03 |   |   |
| RCH Solutions | Machine Learning Engineer | 2021-12-03 |   |   |
| Randstad Technologies US | Data Scientist | 2021-12-03 |   |   |
| Motion2Ai, Inc | Computer Vision Engineer | 2021-12-03 |   |   |
| Gemini | Senior Machine Learning Engineer (Python) | 2021-12-03 |   |   |
| Costco IT | Data Scientist - Data Analytics | 2021-12-03 |   |   |
| Instacart | Machine Learning Engineer, (Staff/Senior) | 2021-12-03 |   |   |
| Fidelity Investments | AI Delivery Machine Learning Engineer (Remote) – Houston, TX area ONLY | 2021-12-03 |   |   |
| BetterUp | Machine Learning Engineer | 2021-12-03 |   |   |
| The Hartford | Machine Learning Engineer (remote) | 2021-12-03 |   |   |
| Moveworks | Machine Learning Engineer | 2021-12-03 |   |   |
| Linqia | Machine Learning Engineer- Applied ML | 2021-12-03 |   |   |
| StreetLight Data | Data Scientist (Validations team) | 2021-12-03 |   |   |
| Visa | Data Scientist - Python | 2021-12-03 |   |   |
| Novartis Institutes for BioMedical Research (NIBR) | Data Scientist - Drug Discovery / Novartis / NIBR / Bay Area | 2021-12-03 |   |   |
| Credit Sesame | Data Scientist - Machine Learning | 2021-12-03 |   |   |
| Snapdocs | Data Scientist | 2021-12-03 |   |   |
| Nuro | Data Scientist, Autonomy Software | 2021-12-03 |   |   |
| Toyota Research Institute | Senior Machine Learning Engineer / Data Scientist, Machine Assisted Cognition | 2021-12-03 |   |   |
| Nimble Robotics | Computer Vision and Perception Engineer | 2021-12-03 |   |   |
| Kover | Machine Learning Engineer | 2021-12-03 |   |   |
| Syntellis Performance Solutions | Data Scientist | 2021-12-03 |   |   |
| iHeartMedia | Machine Learning Engineer | 2021-12-03 |   |   |
| Epic Games | Research Engineer | 2021-12-03 |   |   |
| Adobe | 2022 University Graduate – Machine Learning Engineer | 2021-12-03 |   |   |
| Bayer | Data Scientist Postdoc | 2021-12-03 |   |   |
| Thomas | Lead Data Scientist | 2021-12-03 |   |   |
| Alldus | Data Scientist | 2021-12-03 |   |   |
| One Medical | Senior Software Engineer, Machine Learning | 2021-12-03 |   |   |
| DocuSign | Software Development Engineer - Signing | 2021-12-03 |   |   |
| Argo AI | Software Engineer, (Python) Research Platform | 2021-12-03 |   |   |
| Machina Labs | Machine Learning Engineer | 2021-12-03 |   |   |
| Samsung Research America | Machine Learning Engineer | 2021-12-03 |   |   |
| Spectraforce Technologies | Computer Vision Engineer V | 2021-12-03 |   |   |
| Limeade | Machine Learning Engineer | 2021-12-03 |   |   |
| OpenAI | Research Engineer, Applied Research | 2021-12-03 |   |   |
| CoinList | Software Engineer | 2021-12-03 |   |   |
| Salesforce | Machine Learning Engineer | 2021-12-03 |   |   |
| NVIDIA | Deep Learning Software Engineer - NCG 2021 | 2021-12-03 |   |   |
| Maven Wave | ML Operations | 2021-12-03 |   |   |
| Eikon Therapeutics | Software Engineer, Computer Vision | 2021-12-03 |   |   |
| Spring Labs | Data Scientist | 2021-12-03 |   |   |
| Adobe | Machine Learning Research Engineer | 2021-12-03 |   |   |
| nTopology | Software Engineer, Platform Experience | 2021-12-03 |   |   |
| UnitedHealth Group | Software Engineer | 2021-12-03 |   |   |
| Openwave Computing LLC | Software Engineer | 2021-12-03 |   |   |
| Mav Farm | Applied Computer Vision Engineer | 2021-12-03 |   |   |
| Harvey Nash Group | Machine Learning Engineer | 2021-12-03 |   |   |
| Noble.AI | Research Scientist | 2021-12-03 |   |   |
| Frontier Medicines | Head of AI/ML Cheminformatics | 2021-12-03 |   |   |
| Dover | Software Engineer (New Grad) | 2021-12-03 |   |   |
| Oracle | Data Scientist 4 | 2021-12-03 |   |   |
| General Motors | Entry Level - Masters Degree Data Scientist | 2021-12-03 |   |   |
| Uber | Data Scientist II - Uber Freight | 2021-12-03 |   |   |
| Affirm | Software Engineer, Developer Productivity | 2021-12-03 |   |   |
| Sisu | Machine Learning Engineer | 2021-12-03 |   |   |
| Intellimize | Back end / Machine learning Engineer | 2021-12-03 |   |   |
| Coinbase | Machine Learning Engineer | 2021-12-03 |   |   |
| Genesys | Software Engineer | 2021-12-03 |   |   |
| TikTok | Machine Learning Engineer, TikTok Business Integrity | 2021-12-03 |   |   |
| Optello | Machine Learning Engineer-Fully Remote! | 2021-12-05 |   |   |
| CyberCoders | Remote Sr. Machine Learning Engineer - AI / Deep Learning | 2021-12-05 |   |   |
| nference | Software Engineer | 2021-12-05 |   |   |
| Uber | Senior Software Engineer | 2021-12-05 |   |   |
| Netwrix Corporation | Data Scientist, Retention | 2021-12-07 |   |   |
| Brooksource | Machine Learning Engineer | 2021-12-07 |   |   |
| Crystal Equation Corporation | Data Scientist | 2021-12-07 |   |   |
| Naterans | Data Scientist | 2021-12-07 |   |   |
| Brightside | Data Analyst / Scientist | 2021-12-07 |   |   |
| Aurora | Machine Learning Engineer - Simulation | 2021-12-07 |   |   |
| Wayfair | Machine Learning Engineer | 2021-12-07 |   |   |
| Coinbase | Machine Learning Engineer | 2021-12-07 |   |   |
| Ontra | Machine Learning Engineer | 2021-12-07 |   |   |
| Naka | Software Engineer | 2021-12-07 |   |   |
| Black Sesame Technologies Inc | Software Engineer | 2021-12-07 |   |   |
| Clear Capital | Machine Learning Engineer | 2021-12-07 |   |   |
| Adobe | Software Engineer | 2021-12-07 |   |   |
| Startup (in Stealth Mode) | Computer Vision and Image Processing Applied Scientist | 2021-12-07 |   |   |
| Shield AI | Machine Learning Software Engineer | 2021-12-07 |   |   |
| Prometheus Biosciences, Inc | Machine Learning Engineer - Remote | 2021-12-07 |   |   |
| Jobot | Machine Learning Engineer - Healthcare | 2021-12-07 |   |   |
| Modis | Machine Learning Engineer | 2021-12-07 |   |   |
| Harnham | Machine Learning Engineer | 2021-12-07 |   |   |
| Centrly | Applied Data Scientist | 2021-12-07 |   |   |
| Agile Resources, Inc. | Machine Learning Engineer | 2021-12-07 |   |   |
| Signos | Lead Machine Learning Engineer | 2021-12-07 |   |   |
| Quantix, Inc | Data Engineer | 2021-12-07 |   |   |
| Stealth Mode | Senior Backend Software Engineer | 2021-12-07 |   |   |
| QuEST Defense | Controls Software Engineer | 2021-12-07 |   |   |
| Diamondpick | Lead Data Engineer | 2021-12-07 |   |   |
| Mumba Technologies, Inc. | Sr. Software Engineer with C++ | 2021-12-07 |   |   |
| Rylem Consulting | Data Engineer/Analyst | 2021-12-07 |   |   |
| Cquensys | Data Engineer | 2021-12-07 |   |   |
| Jobot | Applied Data Scientist | 2021-12-07 |   |   |
| Quantix, Inc | Data Engineer | 2021-12-07 |   |   |
| TalentPartners | Data Engineer | 2021-12-07 |   |   |
| HireMinds | Data Scientist | 2021-12-07 |   |   |
| Motion Recruitment | Data Engineer | 2021-12-07 |   |   |
| Perfect Harvest | Software Development Engineer | 2021-12-07 |   |   |
| Total Brain | Data Engineer | 2021-12-07 |   |   |
| Optello | Python Engineer - Must live in Midwest or East Coast! | 2021-12-07 |   |   |
| SOFTECH | Software Development /Engineer | 2021-12-07 |   |   |
| Rokster | Data Engineer | 2021-12-07 |   |   |
| LockerDome | ML Engineer, Applied ML - Austin, TX | 2021-12-07 |   |   |
| Plant Talent Inc. | Data Engineer | 2021-12-07 |   |   |
| Dataminr | Research Scientist (ML/DL/IR/KG) | 2021-12-07 |   |   |
| RamRak Recruiting | Machine Learning Engineer | 2021-12-07 |   |   |
| Collabera Inc | Data Engineer | 2021-12-07 |   |   |
| DemandBridge | Data Engineer | 2021-12-07 |   |   |
| Crystal Equation Corporation | AI Engineer | 2021-12-07 |   |   |
| Spruce InfoTech, Inc | Python Developer | 2021-12-07 |   |   |
| Pinnacol Assurance | Data Engineer | 2021-12-07 |   |   |
| Trademark Global, LLC | Data Scientist | 2021-12-07 |   |   |
| ProArch Consulting Services Private Limited | AI & Computing Research Engineer (PhD) | 2021-12-07 |   |   |
| GridMatrix | Senior Data Scientist | 2021-12-07 |   |   |
| TOPSYS IT | Python Developer | 2021-12-07 |   |   |
| Wish | Data Scientist (Ads) | 2021-12-08 |   |   |
| MAMMOTH BRISBANE | Data Scientist | 2021-12-08 |   |   |
| GraphWear Technologies Inc | Machine Learning Engineer | 2021-12-08 |   |   |
| Modis | Machine Learning Engineer | 2021-12-08 |   |   |
| TruEra | Machine Learning Engineer | 2021-12-08 |   |   |
| Muvinai | Python Developer | 2021-12-08 |   |   |
| Incedo Inc. | Machine Learning Engineer | 2021-12-08 |   |   |
| Cervello | Machine Learning Engineer | 2021-12-09 |   |   |
| L2R Consulting | Software Engineer | 2021-12-09 |   |   |
| NLB Services | Machine Learning Engineer | 2021-12-09 |   |   |
| GAIUS Networks (Flipped.ai) | Data Scientist | 2021-12-10 |   |   |
| Flipped.ai | Data Scientist | 2021-12-10 |   |   |
| GEx Search | Machine Learning Engineer | 2021-12-10 |   |   |
| QuantumScape | Machine Learning Engineer | 2021-12-10 |   |   |
| Guardant Health | Software Engineer II | 2021-12-10 |   |   |
| Averity | Machine Learning Engineer | 2021-12-10 |   |   |
| Horizon Media | Data Scientist | 2021-12-10 |   |   |
| XPeng Motors | Computer Vision Engineer, Map Fusion | 2021-12-10 |   |   |
| Wizard | Machine Learning Engineer | 2021-12-10 |   |   |
| Mastech Digital | Data Scientist | 2021-12-10 |   |   |
| Klaxontech Inc | Machine Learning Engineer | 2021-12-10 |   |   |
| CytoVeris | Artificial Intelligence Engineer | 2021-12-10 |   |   |
| Clarivate | Machine Learning Engineer (Remote) | 2021-12-10 |   |   |
| Validate Health | Data Scientist — Healthcare Analytics Startup | 2021-12-10 |   |   |
| Tiger Analytics | Machine Learning Engineer ( Remote) | 2021-12-10 |   |   |
| Profusa | Data Scientist | 2021-12-10 |   |   |
| Collabera Inc | Reinforcement Learning Engineer | 2021-12-10 |   |   |
| KAnand Corporation | Python Developer | 2021-12-10 |   |   |
| Huxley | Data Engineer (Remote) | 2021-12-10 |   |   |
| DAT Freight & Analytics | Machine Learning Engineer | 2021-12-10 |   |   |
| Amzon | Applied Scientist | 2021-12-10 |   |   |
| KLA | Software Algorithm Engineer ( Statistical Image Processing | Computer Vision ) | 2021-12-13 |   |
| KLA | Software Engineer | 2021-12-13 |   |   |
| KLA | Data Engineer | 2021-12-13 |   |   |
| Amdocs | Software Engineer | 2021-12-13 |   |   |
| Prime Team Partners | Data Scientist | 2021-12-15 |   |   |
| AnChain.AI | Data Scientist | 2021-12-15 |   |   |
| SpanIdea Systems | Machine Learning/Data Scientist | 2021-12-15 |   |   |
| Syndigo | Machine Learning Engineer | 2021-12-15 |   |   |
| CareerWellness | Customer Sales Data Scientist(Upto $220k + Equity) | 2021-12-15 |   |   |
| Objectways | Machine Learning Engineer | 2021-12-15 |   |   |
| TigerGraph | Research Engineer - Data Integration (New Grad) | 2021-12-15 |   |   |
| Mumba Technologies, Inc. | Machine Learning Engineer | 2021-12-15 |   |   |
| Cloudflare | Machine Learning Engineer - Bot Management | 2021-12-17 |   |   |
| Imagry | Machine Learning Engineer | 2021-12-17 |   |   |
| OSI Engineering | Computer Vision Engineer for Sports Broadcasting Company (Remote in US) | 2021-12-17 |   |   |
| Veritas Partners | Data Scientist | 2021-12-19 |   |   |
| Mobinity Global | Data Scientist | 2021-12-19 |   |   |
| Synthesis x Americas | Data Scientist | 2021-12-19 |   |   |
| Webmasters4SEO | Data Scientist | 2021-12-19 |   |   |
| CareerWellness | ML/DL Software Engineer (Upto $300k + equity) | 2021-12-19 |   |   |
| EA Elektro-Automatik | Applications Engineer | 2021-12-19 |   |   |
| CarOffer | Data Scientist | 2021-12-19 |   |   |
| Easy2Employ, LLC | Big Data Engineer | 2021-12-19 |   |   |
| Motion Recruitment | Data Scientist | 2021-12-19 |   |   |
| OSOM | Computer Vision / Machine Learning Engineer | 2021-12-19 |   |   |
| Worldcoin.org | Machine Learning Engineer, Data Quality | 2021-12-19 |   |   |
| Alto Experience | Machine Learning (ML) Engineer | 2021-12-19 |   |   |
| Yahoo | Data Scientist | 2021-12-19 |   |   |
| Apple | GPU Machine Learning Engineer. | 2021-12-19 |   |   |
| Applied Matter | Software Engineer - Machine Learning Platform (E3) | 2021-12-19 |   |   |
| FiscalNote | Machine Learning Engineer | 2021-12-20 |   |   |
| Transcend Solutions | Software Engineer | 2021-12-20 |   |   |
| Worldcoin | Machine Learning Infrastructure Engineer | 2021-12-20 |   |   |
| Cresta | Machine Learning Engineer in Customer Engineering | 2021-12-20 |   |   |
| Infor | Software Engineer | 2021-12-20 |   |   |
| Apptio | Software Development Engineer II | 2021-12-20 |   |   |
| RefleXion | Data Scientist | 2021-12-20 |   |   |
| CareerWellness | ML/DL Software Engineer (Upto $300k + equity) | 2021-12-20 |   |   |
| SAMSUNG SDS | AI Scientist | 2021-12-20 |   |   |
| Storm4 | Machine Learning Engineer | 2021-12-20 |   |   |
| LinkedIn | Artificial Intelligence Engineer- Entry Level (EXP Talent) | 2021-12-20 |   |   |
| Aibee Inc. | Computer Vision Algorithm Engineer | 2021-12-20 |   |   |
| Putnam Recruiting Group | Data Scientist | 2021-12-20 |   |   |
| Tumult Labs | Software Engineer | 2021-12-20 |   |   |
| Sightly | Data Scientist | 2021-12-20 |   |   |
| Outdoorsy | Data Scientist | 2021-12-24 |   |   |
| Vimaan Robotic | Machine Learning Scientist | 2021-12-24 |   |   |
| Deloitte | Machine Learning Engineer - MLOps | 2021-12-24 |   |   |
| Intellibus | Software Engineer (Java Developer) | 2021-12-24 |   |   |
| Doosan GridTech | Software Development Engineer II | 2021-12-24 |   |   |
| IT Motives | Staff Software Engineer - Python | 2021-12-24 |   |   |
| Matcherino.com | Software Engineer | 2021-12-24 |   |   |
| Bioz | Senior Software Engineer - Backend | 2021-12-24 |   |   |
| ObjectSecurity | Software Engineer (+ Senior/Full-Stack/Principal etc.) | 2021-12-24 |   |   |
| ReTech Labs, Inc. | Deep Learning Scientist | 2021-12-24 |   |   |
| Tubi | Data Scientist | 2021-12-24 |   |   |
| Kyte | Data Scientist, Applied Data Science | 2021-12-24 |   |   |
| Kforce Inc | Data Scientist / Machine Learning Engineer | 2021-12-24 |   |   |
| Wish | Data Scientist, Market Intelligence | 2021-12-24 |   |   |
| Validate Health | Data Engineer / Backend Developer — Healthcare Analytics Startup | 2021-12-24 |   |   |
| Bobcat Miner | Application Engineer | 2021-12-24 |   |   |
| RocketLawyer.com | Data Engineer | 2021-12-24 |   |   |
| MicroAgility | GCP Data Engineer | 2021-12-24 |   |   |
| Belikewatr, Inc. | Data Scientist Manager Volunteer | 2021-12-24 |   |   |
| CyberCoders | Software Engineer - REMOTE | 2021-12-26 |   |   |
| Jobot | Software Engineer III (.NET) | 2021-12-26 |   |   |
| CyberCoders | REMOTE Back End Software Engineer - $150k (AWS, Python, Docker) | 2021-12-26 |   |   |
| CyberCoders | Machine Learning Engineer (Remote) - AI/NLP/Django | 2021-12-26 |   |   |
| DoorDash | Software Engineer, Data Products | 2021-12-26 |   |   |
| Google | SDE 1 | 2021-12-26 |   |   |
| Google | SDE 2 | 2021-12-26 |   |   |
| Google | SDE 3 | 2021-12-26 |   |   |
| Fast | Software Engineer, Machine Learning & Data - Backend | 2021-12-26 |   |   |
| DraftKings Inc | Machine Learning Engineer | 2021-12-26 |   |   |
| Socure | Machine Learning Engineer (All Levels) | 2021-12-26 |   |   |
| Forward | Data Scientist (Performance Analytics) | 2021-12-26 |   |   |
| DISH Network | Data Scientist | 2021-12-26 |   |   |
| Quantcast | Data Scientist | 2021-12-26 |   |   |
| CareerWellness | ML/DL Software Engineer (Upto $300k + equity) | 2021-12-27 |   |   |
| Spyn Inc | Machine Learning Engineer | 2021-12-27 |   |   |
| Olive | ML Ops Engineer - Graph | 2021-12-27 |   |   |
| Walmart Global Tech | Staff Data Scientist - Machine Learning (Merchant Data Science) (Sunnyvale) | 2021-12-27 |   |   |
| TackleAI | Machine Learning Engineer | 2021-12-29 |   |   |
| Hairtelligence | Machine Learning Engineer | 2021-12-29 |   |   |
| Orbital Sidekick | Data Scientist | 2021-12-29 |   |   |
| Earthshot Labs | Machine Learning Engineer | 2021-12-29 |   |   |
| CoSourcing Partners - Robotic Process Automation and IT Services Company | Data Scientist | 2021-12-29 |   |   |
| ZOOMi Technologies Inc | Machine Learning Engineer | 2021-12-29 |   |   |
| Twitter | Data Scientist - Experimentation and Causal Inference | 2021-12-29 |   |   |
| Affirm | Software Engineer, Dev & Tools | 2021-12-29 |   |   |
| Salesforce | Machine Learning Engineer | 2021-12-29 |   |   |
| OSI Engineering | Computer Vision Engineer for Sports Broadcasting Company (Remote in US) | 2021-12-30 |   |   |
| UpRoar Technologies | Full-Stack Software Engineer | 2021-12-30 |   |   |
| AL-AGEDI B. C. | Senior Full-Stack Software Engineer | 2021-12-30 |   |   |
| Stealth Mode Startup Company | Computer Vision and Image Processing Applied Scientist | 2021-12-30 |   |   |
| Simerse | Computer Vision Engineer (AI Computer Vision Startup) — Remote | 2021-12-30 |   |   |
| MoTek Technologies | Principal Perception Engineer / Autonomous Driving / Robotics Start-Up | 2021-12-30 |   |   |
| Worldcoin | Machine Learning Engineer | 2021-12-30 |   |   |
| Voxel | Computer Vision Scientist | 2021-12-30 |   |   |
| Ontra (Formerly InCloudCounsel) | Machine Learning Engineer | 2021-12-30 |   |   |
| Change Healthcare | Machine Learning Engineer | 2021-12-30 |   |   |
| TuSimple | ML Platform - Machine Learning Engineer | 2021-12-30 |   |   |
| Appen | Machine Learning Infrastructure Engineer | 2021-12-30 |   |   |
| Gorgias | Machine Learning Engineer | 2021-12-30 |   |   |
| Stripe | Machine Learning Engineer, Identity Fraud | 2021-12-30 |   |   |
| Jobot | Machine Learning Engineer | 2022-01-01 |   |   |
| recruitAbility | Data Scientist | 2022-01-01 |   |   |
| Walmart | (USA) Staff Data Scientist | 2022-01-01 |   |   |
| Calm | Data Scientist, Analytics | 2022-01-01 |   |   |
| Orion Advisor Tech | Software Engineer - 100% Remote - OP | 2022-01-01 |   |   |
| Pony.ai | Software Engineer, Perception - Computer Vision/Deep Learning application | 2022-01-01 |   |   |
| Anvyl | Machine Learning Engineer | 2022-01-01 |   |   |
| Jobot | Machine Learning Engineer | 2022-01-01 |   |   |
| Humankind | Data Scientist | 2022-01-01 |   |   |
| Coda Search | Data Scientist | 2022-01-01 |   |   |
| AAFIE Artificial Intelligence Labs | Machine Learning Engineer | 2022-01-01 |   |   |
| Recruiting For Less | Data Scientist/Researcher - Scientific Programming | 2022-01-01 |   |   |
| Jobot | Data Scientist | 2022-01-01 |   |   |
| Jobot | REMOTE Machine Learning Engineer - Mobile Robotics | 2022-01-01 |   |   |
| Jobot | Senior Machine Learning Engineer - REMOTE | 2022-01-01 |   |   |
| Conexess Group | Machine Learning Operations Engineer (Exp. with CI/CD, Kubernetes & Docker, container networking, OOD/OOP) (100% Remote) – Direct Hire or C2H | 2022-01-01 |   |   |
| HIRECLOUT | Senior Machine Learning Engineer, Remote – 3696 | 2022-01-01 |   |   |
| Jobot | Mid-Level Software Engineer, Python (Remote) | 2022-01-01 |   |   |
| Jobot | Mid-Level Software Engineer, Python (Remote) | 2022-01-01 |   |   |
| Jobot | Software Engineer | 2022-01-01 |   |   |
| Jobot | Software Engineer - Java | 2022-01-01 |   |   |
| Jobot | Software Engineer (Python / Django) | 2022-01-01 |   |   |
| Hillmont Group | Machine Learning Engineer | 2022-01-01 |   |   |
| Income Payments | Machine Learning Engineer, Remote | 2022-01-01 |   |   |
| Health Edge | Machine Learning Engineer, Remote | 2022-01-01 |   |   |
| Niantic | Data Scientist | 2022-01-02 |   |   |
| Altana AI | Machine Learning Engineer | 2022-01-03 |   |   |
| Jobot | Machine Learning Engineer | 2022-01-03 |   |   |
| Jobot | Senior Software Engineer - Platform | 2022-01-03 |   |   |
| Jobot | Software Engineer (Python / Django) | 2022-01-03 |   |   |
| Jobot | Software Engineer | 2022-01-03 |   |   |
| Jobot | Software Engineer | 2022-01-03 |   |   |
| Reddit, Inc | Machine Learning Engineer, Ads Targeting | 2022-01-03 |   |   |
| CDK Global | Software Engineer- REMOTE | 2022-01-03 |   |   |
| Acceler8 Talent | Machine Learning Engineer | 2022-01-03 |   |   |
| Got It AI | Machine Learning Engineer | 2022-01-03 |   |   |
| Cerberus Capital Management | Machine Learning Engineer | 2022-01-03 |   |   |
| BlueLight AI | Machine Learning Engineer | 2022-01-03 |   |   |
| LeapYear Technologies | Data Scientist | 2022-01-03 |   |   |
| maven | Software Engineer | 2022-01-03 |   |   |
| Swift Strategic Solutions Inc | Data Scientist Enterprise Analytics | 2022-01-03 |   |   |
| Uber | Data Scientist / Senior Data Scientist - Core Analytics & Science | 2022-01-03 |   |   |
| 1010data | Data Scientist - Retail Analytics | 2022-01-03 |   |   |
| Lovelytics | Machine Learning Engineer | 2022-01-03 |   |   |
| Miso Robotics | Machine Learning Engineer | 2022-01-03 |   |   |
| Neudesic | Data Scientist | 2022-01-03 |   |   |
| Tona | Senior Machine Learning Engineer, Computer Vision | 2022-01-03 |   |   |
| Enigma Technologies, Inc | Machine Learning Engineer | 2022-01-03 |   |   |
| BioSpace | Machine Learning Engineer | 2022-01-03 |   |   |
| Speak_ | Software Engineer | 2022-01-04 |   |   |
| AbleTo Inc. | Machine Learning Engineer | 2022-01-04 |   |   |
| Integral Ad Science | Software Engineer- Streaming Video | 2022-01-04 |   |   |
| PRA Health Sciences | Data Scientist | 2022-01-04 |   |   |
| ConsenSys | Data Scientist (Vertical Applications) | 2022-01-04 |   |   |
| Frequence | Data Scientist | 2022-01-05 |   |   |
| Alpha Recon | Data Scientist Engineer | 2022-01-05 |   |   |
| Cadent | Machine Learning Engineer | 2022-01-05 |   |   |
| Cash App | Machine Learning Engineer | 2022-01-05 |   |   |
| Amicus Recruitment | Python Developer | 2022-01-05 |   |   |
| Theery | Computer Vision Engineer | 2022-01-05 |   |   |
| HireMe | Machine Learning Engineer | 2022-01-05 |   |   |
| Trusted Health | Software Engineer, Backend | 2022-01-06 |   |   |
| Reveleer | Full Stack Software Engineer | 2022-01-06 |   |   |
| Lenovo | Data scientist | 2022-01-06 |   |   |
| beehiiv | Software Engineer (Remote) | 2022-01-06 |   |   |
| ActionIQ | Machine Learning Engineer | 2022-01-06 |   |   |
| Boom Entertainment | Software Engineer | 2022-01-06 |   |   |
| Twitter | Machine Learning Engineer - User Signals | 2022-01-06 |   |   |
| Twitter | Machine Learning Software Engineer - Ads Infra | 2022-01-06 |   |   |
| Twitter | Machine Learning Software Engineer - Ads Infra | 2022-01-06 |   |   |
| 6sense | Data Scientist | 2022-01-09 |   |   |
| FocusKPI, Inc | Data Scientist | 2022-01-09 |   |   |
| Flint Hills Resources | Software Engineer | 2022-01-09 |   |   |
| Wiland | Software Engineer | 2022-01-09 |   |   |
| Cyberjin | Python/Django Software Engineer (Salary+Equity) | 2022-01-09 |   |   |
| VoxelCloud | Machine Learning Engineer | 2022-01-09 |   |   |
| OtterBase | Python Developer (Remote) | 2022-01-09 |   |   |
| Jarvis Cole | Data Scientist - Up to $150k - Remote | 2022-01-09 |   |   |
| KORE Wireless | Data Scientist | 2022-01-09 |   |   |
| Pure Storage | Software Engineer | 2022-01-09 |   |   |
| Ceridian | Machine Learning Engineer | 2022-01-09 |   |   |
| Twitch | Data Scientist - Commerce Products | 2022-01-09 |   |   |
| Wizard | Machine Learning Engineer | 2022-01-09 |   |   |
| Sisu | Machine Learning Engineer | 2022-01-09 |   |   |
| Coinbase | University Grad, Software Engineer (Remote) | 2022-01-09 |   |   |
| DraftKings Inc | Machine Learning Engineer | 2022-01-09 |   |   |
| Shift | Machine Learning Engineer | 2022-01-09 |   |   |
| Stitch Fix | Machine Learning Engineer | 2022-01-09 |   |   |
| Uber | Software Engineer - Autonomous Mobility & Delivery | 2022-01-09 |   |   |
| Salesforce | Machine Learning Engineer | 2022-01-21 |   |   |
| Deloitte | Machine Learning Engineer | 2022-01-26 |   |   |
| Mozilla | Machine Learning Engineer (Development Tools) | 2022-01-27 |   |   |
| Charlton Morris | Machine Learning Engineer | 2022-02-02 |   |   |
| NVIDIA | Software Engineer - AI | 2022-02-16 |   |   |
| Uber | Software Engineer II, Backend | 2022-02-16 |   |   |
| Shift | Software Engineer, Data | 2022-02-16 |   |   |
| Salesforce | Full-Stack Software Engineer – Application Development | 2022-02-16 |   |   |
| Canopy | Computer Vision and Machine Learning Engineer | 2022-02-16 |   |   |
| Apple | Data Engineer - Computer Vision | 2022-02-16 |   |   |
| LinkedIn | Software Engineer - Ion Team | 2022-02-18 |   |   |
| Swago | Software Engineer | 2022-02-19 |   |   |
| TEKtalent Inc | Python Developer (Entry Level) | 2022-02-23 |   |   |
| Kinta AI | Algorithm Engineer | 2022-02-23 |   |   |
| Google | Software Engineer, Early Caree | 2022-02-23 |   |   |
| GitHub | Software Engineering: Full time opportunities for Graduates | 2022-02-28 |   |   |
| Amdocs | Software Developer (Python) | 2022-02-28 |   |   |
| Microsoft | Software Engineer, Atlanta, Georgia, United States | 2022-03-01 |   |   |
Written on May 25, 2022